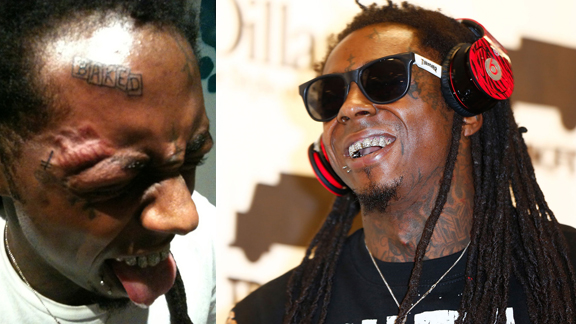 Rapper and skateboarding enthusiast Lil Wayne recently added two new tattoos to his face in the form of Baker skateboards and Deathwish skateboards logos. He got Baker Skateboards' "Baked" logo on the right side of his forehead. Below that, closer to his right eye, is a small Deathwish Skateboards logo. Wayne, whose real name is Dwayne Carter Jr., already had New York-based 5Boro Skateboards pigeon logo near his right ear. 
Lil Wayne made headlines last fall when he announced he was quitting rapping to pursue skateboarding full time. Since he started skating, Lil Wayne had a park built in New Orleans, endorsed Supra Footwear and Mountain Dew, and along the way became friends with many pro skaters. 
Lil Wayne reached out to Baker Skateboards professional Braydon Szafranski by text message to get permission on his new tattoos. Szafranski is known for having a lot of tattoos himself, most notably one of a bat below his right eye, and he was thrilled with the rapper's new ink. 
"I was in a bar in Las Vegas with my brother and my friend and I got a text message from Weezy saying, 'I've always been a huge fan of Baker and Shake Junt. Do you think you could ask Andrew Reynolds if I can get a Baker and Shake Junt tattoo?'" Szafranski said. "I hit up Andrew and he said, 'Of course he can.' So I told Weezy we'd be honored if he got the tattoo because we're all fans of his, and for him to be a fan of ours, considering he's a big deal in his own industry, I can't put it into words.'